Moving Authentically 11-16-13
Date/Time
Date(s) – 11/16/2013
5:30 pm – 7:00 pm
Location
Temecula Yoga Collective
Category(ies)
 Every child knows how to dance. Expressive movement is natural to all humans; the first language to develop is the language of the body. We begin to limit our expressive movements when we become old enough to develop an observer self, that is, we begin to see ourselves from the outside vs. feeling ourselves from the inside. We judge, contain, constrain, tense, limit, control, and manage our self-expression in order to fit into societal roles. The external becomes louder than the internal and we become deaf to our movement impulses and strangers to our own body wisdom.
Movement can be a powerful tool to express internal states, sequence through difficult emotions, gain wisdom, play, experience joy, and connect to others as well as to the divine. In Movement Therapy, we deepen internal awareness by finding movement impulses while working with a very loose external form. Moving Authentically workshops help students to reconnect to their bodies from the inside out. Moving Authentically workshops are precursors for upcoming Authentic Movement Practice Groups.
$20 Register with The Temecula Yoga Collective (http://www.thetyc.com) 951.290.2892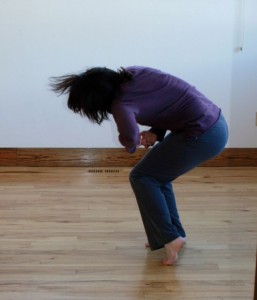 Sabrina Santa Clara, Dance/Movement Therapist
www.SabrinaSantaClara.com             951.378.5868
Sabrina Santa Clara is a Body-Centered Psychotherapist, Spiritual Counselor, Dance/Movement Therapist, Licensed Professional Counselor (CO), Massage Therapist and  yoga instructor rooted in Anusara heart-centered alignment. She helps people integrate inner world, outer world, and metaphysical world experiences to create whole person healing and improve whole life functioning. She offers group, semi-private and individual sessions in yoga, movement therapy, spiritual counseling, creative/expressive arts therapy, and holistic therapy.